UNESCO Global Geoparks
During the 38th session of UNESCO's General Conference in November 2015, the 195 Member States of UNESCO decided to endorse the statutes of a new international programme: the International Geoscience and Geoparks Programme (IGGP). UNESCO also endorsed a new label: UNESCO Global Geoparks. Based on this new programme and label, members of the Global Geoparks Network (GGN) Association became UNESCO Global Geoparks that are devoted to exchange their experience regarding their most successful activities.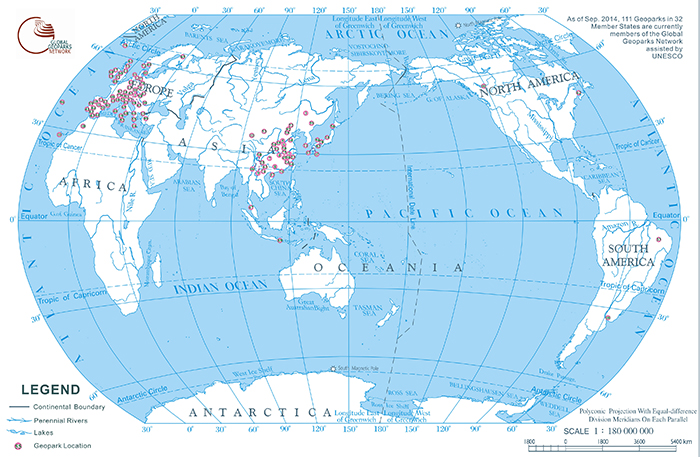 Within UNESCO's IGGP, important local and national geological sites gain international recognition and benefit from the exchange of knowledge and expertise with staff of other UNESCO Global Geoparks. This is especially important in developing countries where sustainable tourism, such as that developed within geoparks, leads to job creation in local communities. The members of the dynamically growing network join in common projects to ensure high quality Global Geoparks products and services.
UNESCO Global Geoparks develop 'best practice' models and quality requirement for the Geoparks, so that they can integrate the conservation of geological heritage into their sustainable regional economic development strategy. Geoparks are being established in order to get closer to real economical development of local communities in a sustainable way, generally by enhancing sustainable geotourism and supporting other economical as well as cultural activities.
The GGN members meet every second year at the International Geopark Conference. At present (Autumn 2015) there are 120 GGN member Geoparks in 33 countries all over the world. During the time period between two international conferences, the GGN works via regional networks. The experts of one of these networks, the European Geoparks Network meet twice a year in the framework of European Geopark Conferences.
The representatives of the leading organisation of Bakony–Balaton Geopark, the Balaton Uplands National Park Directorate received the certificate of membership of the Global Geoparks Network on 20 September 2012 in Arouca Geopark, Portugal.
Please click here to reach the official website of the Global Geoparks Network Association.